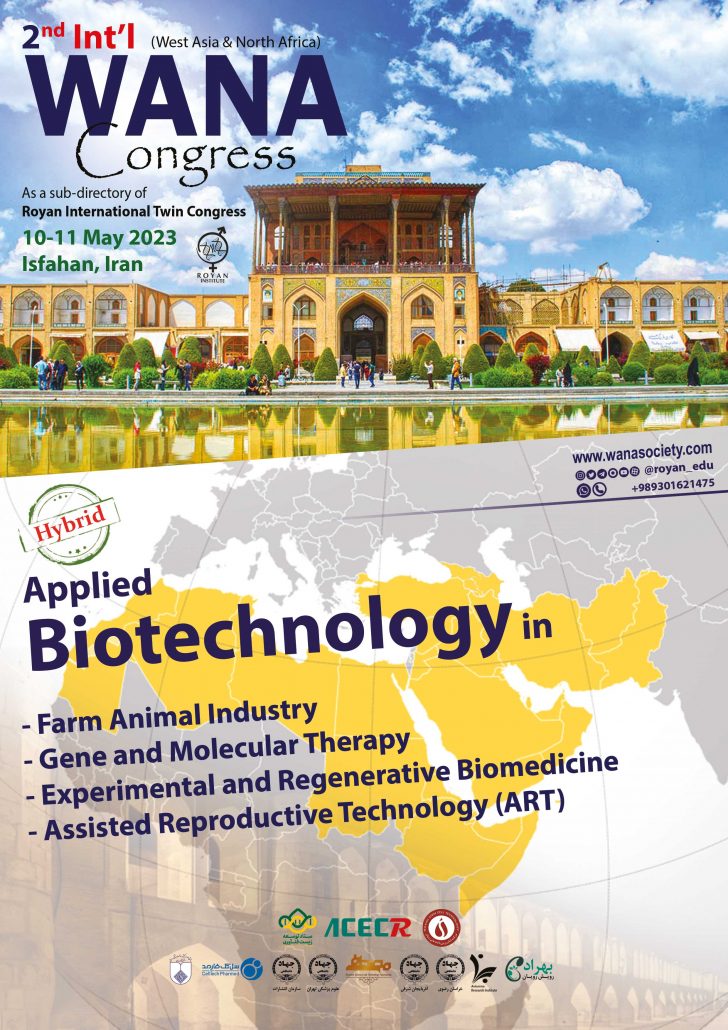 The Second International Congress of West Asian and North African Countries (WANA) will be held on May 10th to 11th,2023 by Royan Institute in Isfahan- Ibn Sina Hall, Isfahan University of Medical Sciences.
This scientific congress, which is the foundation of joint scientific research with the subject of applied biotechnology as a branch of the Royan International Congress and with the approach of dealing with the latest scientific achievements in the field of the role of biotechnology in industry and treatment, at the global level and focusing on the countries of the region WANA [West Asia and North Africa] will be held.
WANA Congress is held at the global level with a focus on the countries of West Asia and North Africa, and it is one of the branches of the Royan International Congress, whose main focus is the review of the latest practical achievements in the field of biotechnology, in addition, it can be mentioned that this congress is the precursor of joint scientific research in the field of biotechnology. The scientific secretary of this congress is Professor Mohammad Hossein Nasr-Isfahani and its executive secretary is Dr. Mehdi Hajian.
Royan Institute believes that this congress can be a place for synergy and meeting of scientific and commercial activists of biotechnology and infertility treatment, and it can be an opportunity for the presence of domestic and foreign knowledge-based companies that have entered the production of consumer items.
It can be said that the establishment of WANA Scientific Association is one of the most important goals of holding this congress.
The goals of creating this scientific association are:
Transferring scientific experiences and establishing effective communication with scientific centers, researchers, and scientists of the WANA region all over the world, identifying the capacity of cooperation in the region's countries, and expanding the communication network.
Development of communication between knowledge-based companies in the WANA region to increase communication, interaction, and trade of scientific products.
Improving the economy of biotechnology and creating regional leadership in the management and guidance of knowledge-based companies in order to develop export-oriented products
Providing the complete chain of providing knowledge-based services [Total Solution] including training, expert consulting, supervision, and implementation of macro projects in the field of biotechnology to applicant countries by knowledge-based companies.
Developing and improving the country's food security by using modern technologies and moving towards establishing the independence of the food economy of Islamic countries as a vital component in the revival of regional power at the global level.
WANA International Congress will be held in English. Respected professors, researchers, and students can refer to the website of the Congress at the Internet address https://royan-edu.ir to learn about the main points of the program and the deadline for registration.